Distribution
Our distribution centers located throughout the United States serve the telecommunications needs of service providers including the logistics services for store room or technician management, staged orders, 3PL logistics, cable cutting and much, more over and above traditional pick, pack and ship services.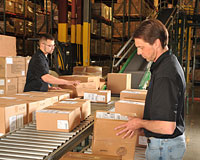 With seven strategically placed distribution centers nationwide consisting of over 1.7 million square feet and best in class systems, KGP Logistics is well positioned to stage orders from any location and customize a logistics service to minimize expense and time for delivery.
Custom Distribution Services Include:
The nationwide presence and expansive warehouse locations provide ample opportunity to partner with KGP Logistics for warehousing needs. The ease of product availability without the infrastructure investment is just one key benefit to have KGP Logistics part of your team.
Order fulfillment tools allow KGP Logistics to customize order fulfillment by the project or business model that fits your expectations. Customizable options are available including; bulk order fulfillment, store room replenishment, work order/jobsite staging, technician fulfillment programs, as well as blind shipments for CPE/Residential fulfillment.
The ability to provide custom labeling and packaging requirements
Capture serial numbers prior to shipping
Labeling and asset tag items to facilitate the management of equipment investments
Experience with cable cutting to allow the purchase of cable based on the project needs
Determine the products needed to turn up a service and KGP Logistics will develop a custom kit including all the necessary components and ship with custom labeling for blind shipments or stage based on delivery dates.
Minimize shipping expense by utilizing a cross dock location and let KGP Logistics manage the inventory needs at the facility with auto fulfillment based on requirements.
Reduce the number of procurement activities by setting mandatory inventory levels; KGP will stock your store room and manage the inventory investment.